Ethically-sourced and globally competitive battery anode material
Project Highlights
Electric Vehicle (EV) growth is driving

annual increases of 29%

in demand for PSG for use in lithium-ion battery anodes.
Renascor's Competitive Advantages:
Vertically integrated operation to produce PSG located wholly within South Australia.

World's 2nd largest Proven Graphite Reserve

and

largest Graphite Reserve outside of Africa.

The favourable geology allowing manufacturing of PSG at costs that are competitive with current Chinese production and advantaged over developments outside of China.

Proven eco-friendly, HF-free purification process endorsed by leading global anode companies.

Tier-1 jurisdiction with low sovereign risk and access to established infrastructure.
Project Status:
Siviour Battery Anode Material (BAM) Project Study (June 2020) delivered NPV of US$499 million based on Stage 1 production of 28,000tpa of PSG.

Non-binding offtake agreements with leading global anode companies, including POSCO (South Korea), Zeto and Minguang New Material (China), Hanwa Corporation (Japan) covering up to 60,000tpa of PSG (+200% of Stage 1 production rate).

The Siviour BAM Project has been granted Major Project Status by the Federal Government.

Conditional approval received for a AU$185 million Loan Facility from Export Finance Australia via the Federal Governments AU$2 billion Critical Minerals Facility
Renascor's Integrated Battery Anode Material Manufacturing Operation is made up of a mine and concentrator near Arno Bay and a downstream PSG production facility in Port Adelaide. All within South Australia.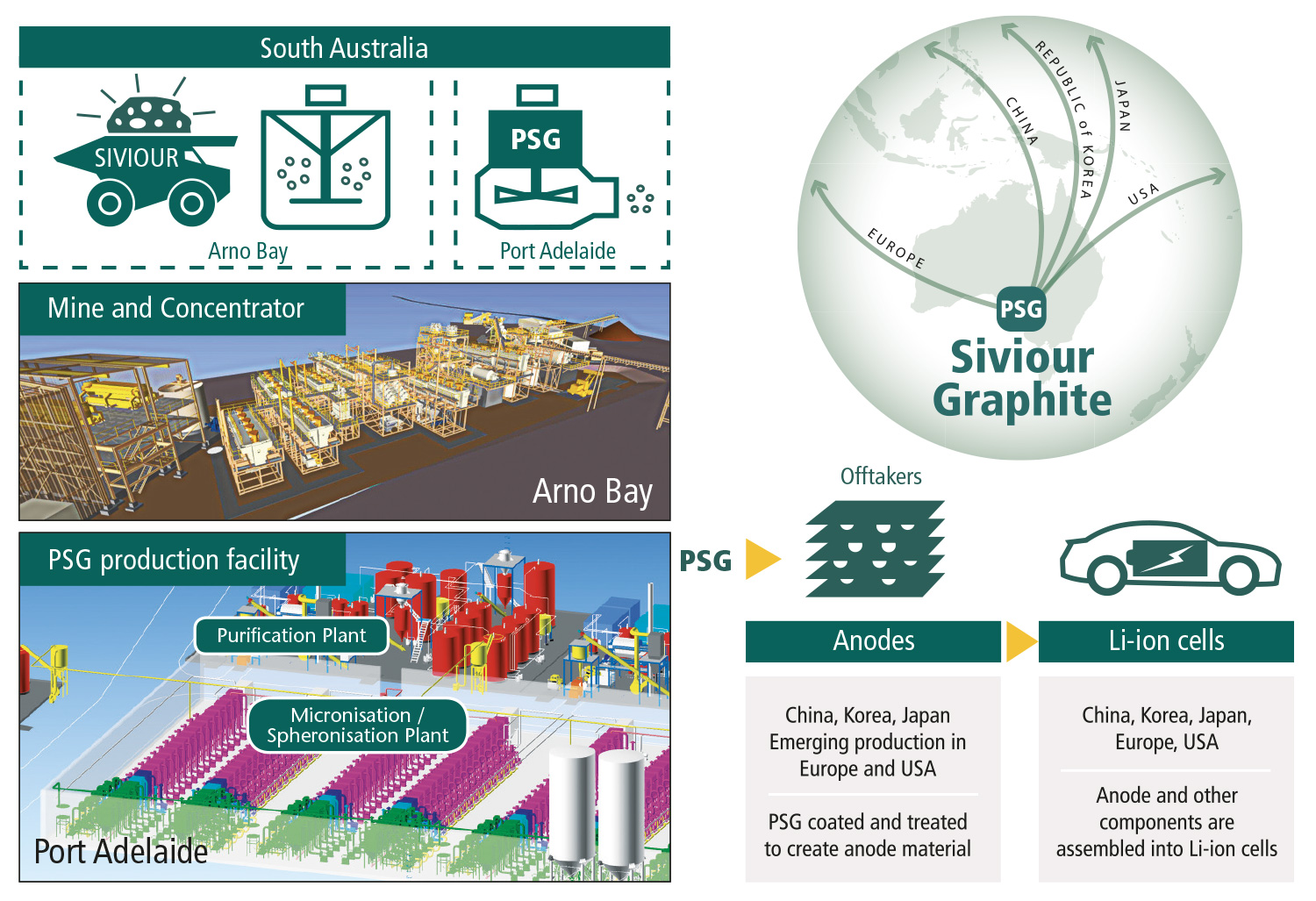 Strong Environment, Social and Governance (ESG) credentials 
South Australia is a Tier-1 jurisdiction with low sovereign risk and a robust and transparent regulatory framework.
South Australia's Minister for Energy and Mining granted a Mineral Lease for Siviour April 2019, the first step in the South Australian government's two-stage assessment and approval process.
Renascor's purification process is eco-friendly.

Over the last five years, Renascor had developed a purification process that avoids the use of Hydrofluoric ("HF") acid, offering a cleaner HF-free alternative to prevailing process used in China.

Renascor's eco-friendly graphite purification technology achieved outstanding results of 99.98% purity in recent testing at leading German independent battery mineral consultancy group Dorfner Anzaplan.